Jacksonville Beach, Florida
Joline and Brian Bidwell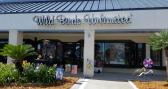 We're passionate about birds and nature. That's why we opened a Wild Birds Unlimited Nature Shop in our community.
Jacksonville Beach, Florida
South Beach Regional Shopping Center,
4138 South Third Street
Jacksonville Beach, FL 32250
Phone: (904) 246-6832
Fax: (904) 246-6026
Email: Send Message
Store Hours:
Mon - Fri: 10:00 am - 6:00 pm
Sat: 10:00 am - 5:00 pm
Sun: 11:00 am - 4:00 pm


New Sunday Hours 11am - 4pm

Birds Love It, Critters Don't
We added a little spice to the bird food that is enjoyed by more than 140 different bird species. Our exclusive Jim's Birdacious® Hot Pepper Bark Butter® Bits are great for attracting birds, including many that do not normally visit feeders, and deterring squirrels and other critters.
To discover which birds are in your backyard, offer Bark Butter Bits in a tray, seed tube or hopper feeder. Also, try mixing them in with your existing foods to attract more birds

15% OFF All Hot Pepper Products*
* One discount per purchase. Offer not valid on previous purchases or sale items.
Offer valid 8/5/2017 thru 08/31/2017.
Offer valid only at Wild Birds Unlimited Jacksonville Beach.
Daily Savings Club Members receive and extra 5% off of their everyday 15% discount.


Being Seasonally Savvy: Help Birds During Molting Season
Just as people make seasonal wardrobe changes, many birds are beginning a transformation of their own by replacing their old and worn feathers in a process known as molting.
Molting is when a bird replaces some (partial molt) or all (full molt) of its feathers.
This complicated process requires a lot of energy and may take up to eight weeks to complete. Molting is so physically demanding for most ducks and geese that they can't fly and will molt in seclusion to avoid predators.
Molting season varies by species and time of year. Right now many birds are beginning their main molt of the year, however American Goldfinches are one of the last to molt. Due to their late nesting period, they won't start their molt until late August.
Distinguishing birds that are molting from those that are not can be difficult. Though some birds may lose patches of feathers and appear "balding," most birds' feather loss and replacement are far less noticeable.
Feathers are made of more than 90% protein, primarily keratins, so every molting bird needs extra proteins to grow strong feathers for proper flight and effective insulation.
Research shows that a consistent and reliable source of food actually helps birds grow higher quality feathers. Keep your feeders filled and also offer high-protein foods such as peanuts, Jim's Birdacious® Bark Butter® and mealworms, to ensure that your birds have the reliable source of protein and fats to help them with molting.
Visit us soon for all of the high-protein foods that will meet your birds' needs. We have everything you need to help your birds keep going (and re-growing feathers) during this critical time
Give Birds a Reliable Food Source
You have your favorite places to eat, whether it's a quick bite or a really nice meal. You trust and rely on them, never considering they might run out of food. Birds are similar. They constantly check their food sources. They may stay and eat a while or just grab a quick bite. But, they want to know they can rely on that food source when weather is good or bad or when times are abundant or lean.
So in order to meet your birds' needs, it is important to have at least one foundational feeder that dependably provides food every day. Studies have demonstrated that a constant, and reliable source of supplemental food helps to improve the overall health and body condition of wild birds.
This foundational feeder should be able to accommodate many birds at one time like our hopper, tube or cylinder feeders. It should have a quality food that attracts the widest variety of birds like our No-Mess Blend or No-Mess Cylinder. It should hold enough food for at least 4 days giving birds a reliable food source, ensuring you'll have more birds to watch! Be sure it works for you, too, by placing it where it is easy to fill and easy to see.
Having a foundational feeder in your yard that never goes empty is key to helping birds improve and maintain their overall health and helping you enjoy more birds. Visit our store to learn more about maintaining a foundational feeder in your backyard.
Nectar Feeding Solutions

Our WBU Decorative Window Hummingbird Feeder features a built-in ant moat and is designed to work with our Nectar Guard® tips, preventing bees, wasps and ants from becoming an issue.

Aggressive male hummingbirds can bully others from visiting a feeder. By hanging multiple hummingbird feeders around your yard, you make it difficult for a territorial male to defend the area, allowing other birds to visit the feeders.