It's Time to Enjoy More Hummingbirds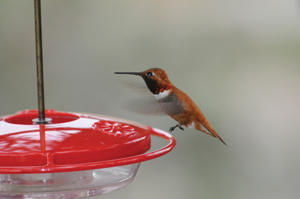 Watch your hummingbird feeders this month and you'll witness one of the greater spectacles in the hobby of backyard bird feeding. Adult hummingbirds are now joined by a horde of newly fledged juveniles in a migratory eating binge that only occurs at this time of year.
Make the most of this opportunity with our Wild Birds Unlimited Hummingbird Feeders. Featuring ports that are above the nectar reservoir, our specially-designed, tray-style hummingbird feeders are the best on the market for several reasons:
No leaking.
Because the feeders do not leak, there are fewer bothersome yellow-jackets.
No ants (built-in ant moat).
Best visibility – you can see all the birds feeding at one time.
Birds can feed while hovering or perched.
The perches encourage birds to rest, giving you a longer viewing time.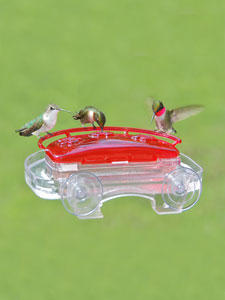 For the best view of your hummingbird feeders, consider the following:
Hang your hummingbird feeder from an Advanced Pole System® (APS) Decorative Branch Perch that is mounted to a new or existing bird feeding station.
Place your feeders in a flower garden, near a window or other place in your yard using the lightweight Hummingbird Crook Pole.
For the closest view, use the WBU Decorative Window Hummingbird Feeder.
---